Spotify is one of the front runners when it comes to music streaming. Maximising your chances by knowing how to get your music on Spotify curated playlists can propel your music career and get you noticed by the all important industry gatekeepers. So, the big question asked by bands and artists all over the World, "how do I get my music on a Spotify curated playlist?" – let's get stuck in to some of the basics…
SPOTIFY FOR ARTISTS
If you have your music on Spotify and you're not using Spotify for Artists, you 100% NEED to be. As well as providing loads of analytics, fan insights and tools to edit your Spotify profile, it also holds the key to pitching your tracks directly to Spotify playlist curators. 
Some top tips for submitting your music to curators via Spotify for Artists:
You can only submit unreleased tracks
When you have uploaded your next release via your digital distributor and Spotify accepts it, it will appear under the "upcoming" tab with the option to submit to Spotify editors for playlisting.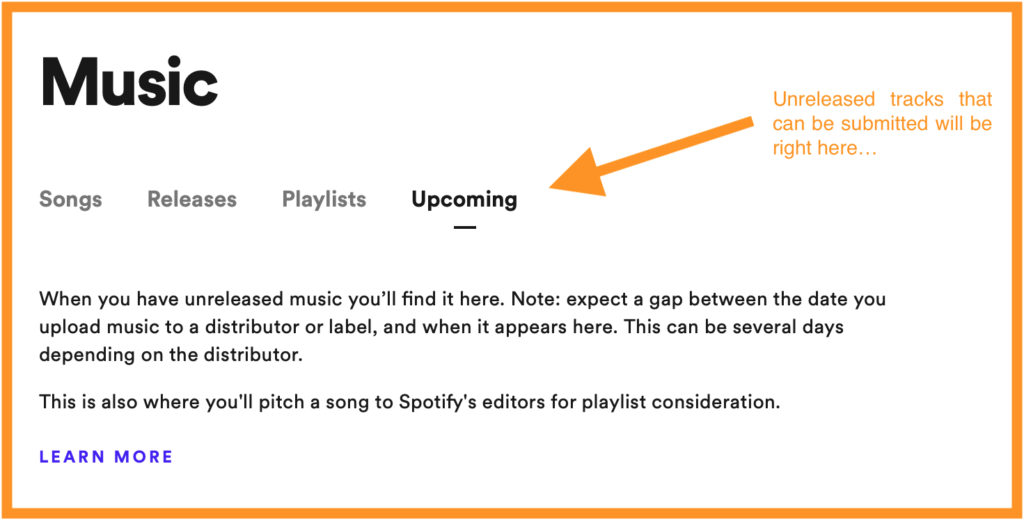 Submit your tracks well in advance
Spotify likes a long lead time, so it's best to submit your tracks for playlist consideration as soon as possible. Ideally they like 4 weeks ahead of your release date, but an absolute minimum of a week will be okay. 
Release on a Friday!
You've seen those New Music Friday playlists, right? The ones that have hundreds of thousands of followers? If you can get one those, your numbers will organically climb. As the title says, its New Music Friday. So, release on a Friday, capeesh? 

Give as much information as possible on your submission
Spotify is data driven, the editors want to see as much insight as possible into the track you've submitted. The more information you can give the better the chance you have on landing on a playlist. Talk about the track and your promotional activities – what is the song about? do you have a pr campaign? any live dates? – this is all important information. Also, make sure your information is accurate. If you're submitting an RnB track, don't select pop as the genre. Even if you want to try and get on pop playlists rather than RnB ones, trying to trick the curators won't do you any favours. 
---
Top Tip: Submitting your tracks through Spotify for Artists guarantees your tracks will land on your Spotify follower's Release Radar playlists the day the track is released. This will give your track an all important boost in numbers. 
---
Want to get feedback on your tracks from some of the music industry's top professionals? You need to check out musicstep. Have a look at our previous blog post to find out more!